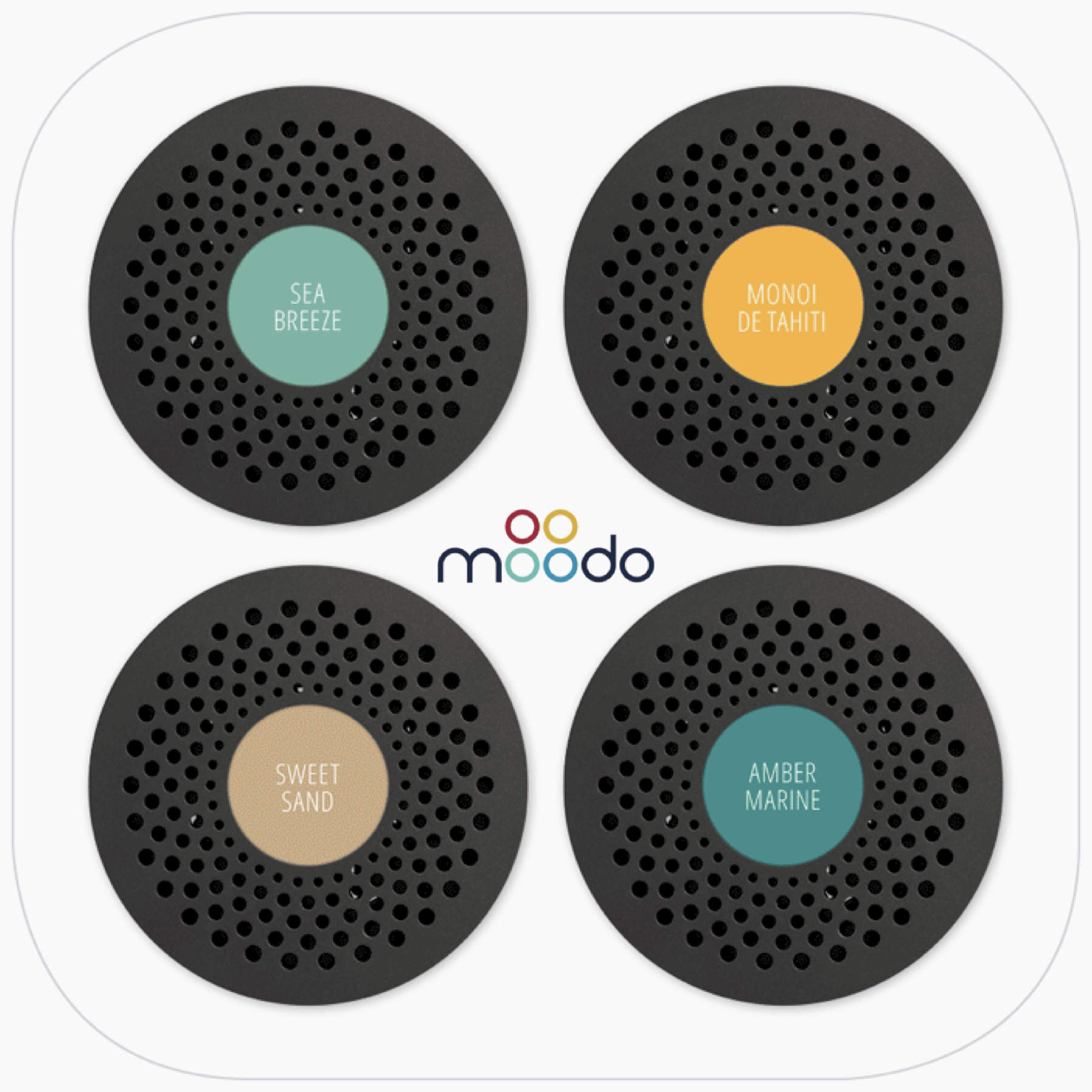 Moodo
Moodo is a one of a kind aroma diffuser. It is the smartest and the most connected aroma diffuser doing the rounds of the market. Moodo is practically compatible with all smartphones and advanced smart home technologies such as Amazon's Alexa, Google Assistant, Siri Shortcuts, and much more. It is the only aroma diffuser that gives you the privilege to customize scents as per your moods, lifestyle, tastes, and preferences.
Moodo fragrances are produced in Grasse, France. Expert perfumers uniquely curate them to be mesmerizing, long-lasting, eco-friendly, alcohol-free, and cruelty-free. Moodo is a smart home fragrance diffuser which can be prefilled with up to 4 Moodo scent capsules at the same time. You can select from a wide variety and exclusive range of premium quality fragrances. On the free Moodo app, you can either select any one of the preset fragrance mixtures suggested by the app or simply play around and create unique scent combinations as per your discretion.
Moodo is a smart and stylish aroma diffuser created to help you unwind, feel refreshed, rejuvenated, and relaxed. It is a very user-friendly product and is designed to cater to all human moods and emotions. Moodo fragrance capsules have been thoughtfully and carefully arranged in fragrance families. Each fragrance family is a set of four capsules that are harmonized to generate a pleasing scent from any possible combination selection.
With multiple smart features and Wi-Fi connectivity options, there is no more fragrance waste, and the fragrance capsules can last long. It lets you control the fragrance of your home from anywhere. Moodo only uses safe and certified fragrances that fully comply with US and EU fragrance and cosmetics regulations. It is safe for domestic pets, children, and pregnant women. Moodo smart home fragrance diffuser is just what you need to make your home more welcoming and affectionate.
BENEFITS 
•reduces stress and increases the ability to focus by providing breathing exercises
•improves sleep quality
•helps to achieve activity goals
•provides exact overview of everyday activity and menstrual cycles
•notifies when it's most needed with the smart alarm
•no battery charging
•sustainable materials
•fits every outfit and occasion
Women across all stages of life can go about their day running from client meetings, to workout classes, to making dinner with their kids, while discretely monitoring their physical and emotional well-being. STRESS The LEAF monitors stress levels by measuring the rise and fall of your breath when worn as a clip on the waistband of your tights or pants. This breathing data is cross-referenced with stress level entries you input into the LEAF app and, over time, the app learns how your breathing correlates with stress.
MOVEMENT
The LEAF monitors your daily activity by tracking every movement you make. The data syncs with the LEAF app, where you can view your progress in an instant.
SLEEP
The LEAF monitors sleep by tracking the small movements you make while in bed, learning how long you spend in each stage, and determining how long and how well you've slept.
REPRODUCTIVE HEALTH
The LEAF assists with monitoring your menstrual cycle, and even reminding you in the days leading up to your next period. Women trying to conceive are able to identify ovulation days to increase their chances of successful conception. By cross-referencing your daily activity in the LEAF app with your menstrual cycle,women are able to better understand their health trends during this specific time.
LEAF Details
•Smart jewelry that can be worn as a necklace, bracelet or clip.
•Learns personal habits and tailors feedback accordingly.
•Stylish wearable technology that helps women track activity, sleep, stress, and reproductive health.
•Provides real-time health feedback via the LEAF app and helps change behaviors so women become healthier and more aware of their body.
•Offers 6-month battery life with a replaceable battery.
•Comes in biodegradable packaging made from sugar cane fiber, bamboo, and reed pulp.
Twitter News
Twitter access not yet configured.